A major harvest now in progress – mounds of runner beans, courgettes and squashes, cucumbers and our first sweet corn, tomatoes and aubergines. We gathered in the produce
Lots of weeding around the beds targeting nettles which keep catching us out as we harvest. We let the docks grow on the site so we have a ready supply of dock leaves!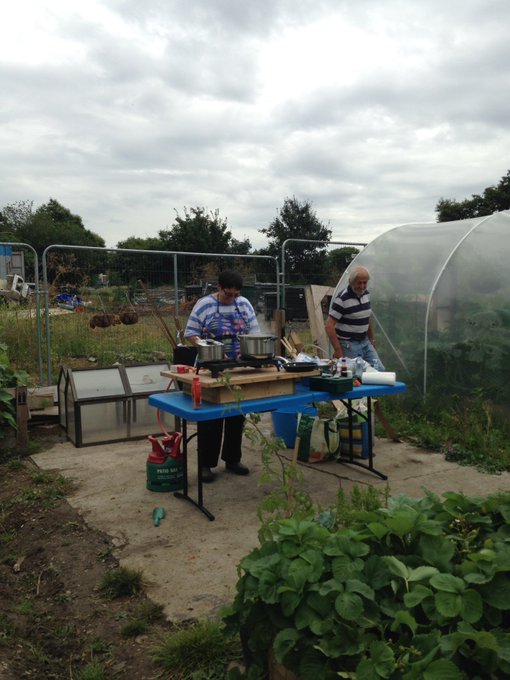 time for lunch cooking our courgettes, and aubergines. Plus a yummy recipe for runner beans Stir-fried green beans with onions and tomatoes Ingredients – 2 tblspns Olive Oil, 2 large red onions sliced, 1/2 tablespn Chinese 5 spice powder, 1 clove garlic, 1 teaspn root ginger peeled and grated, 225g/8oz runner beans cut on the diagonal into 2 in/5cm lengths, 1 x 400g/14oz can chopped tomatoes, 75ml/2 1/2 fl oz water, 3 tablespns light soy sauce, Salt & black pepper. Method – Heat oil in wok or large frying pan and add the onions. Stir-fry for 3 minutes. Add the Chinese 5-spice powder, garlic and ginger and cook for a further 1 min. Add the beans and stir-fry over a medium heat for 5 mins. Add the tomatoes and water and soy sauce and continue to cook for 5-10 minutes until the beans are tender and the sauce is thick.
Plus salad made from our lettuce, cucumber and tomatoes,  the freshest ever potato salad with Dill, a gorgeous frittata,  olive bread and Davids' thirst quenching gazpacho.  Nina and Santiago tried the sweetcorn and described it as the sweetest ever.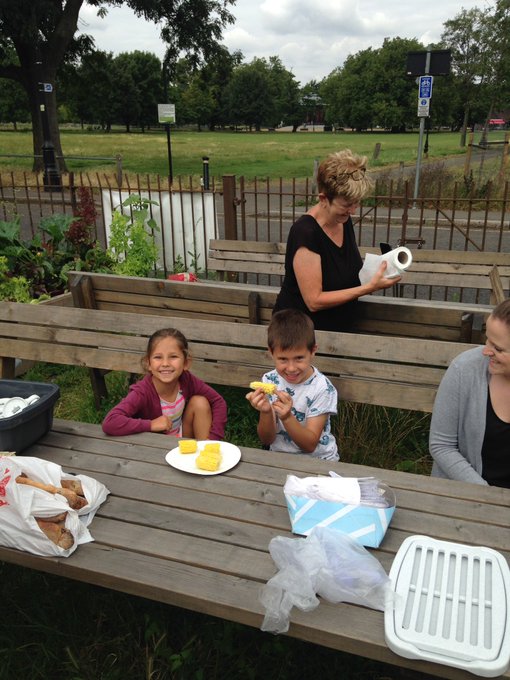 Pudding included Santiagos blueberry cupcakes. The blackcurrants from the Spinney Beds were ready and Diana had made blackcurrant tea bread, blackcurrant jam (come and buy at the feast in October), and blackcurrant compote. This was really tasty on freshly made wholemeal drop scones.
A lovely day, pottering, chatting, sharing good food and really enjoying the fruits of our labour. hard to believe it is just a year since the site was barren!